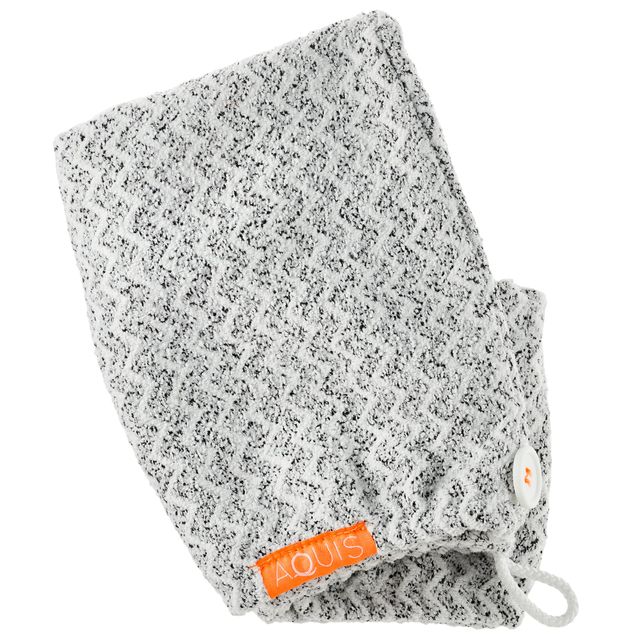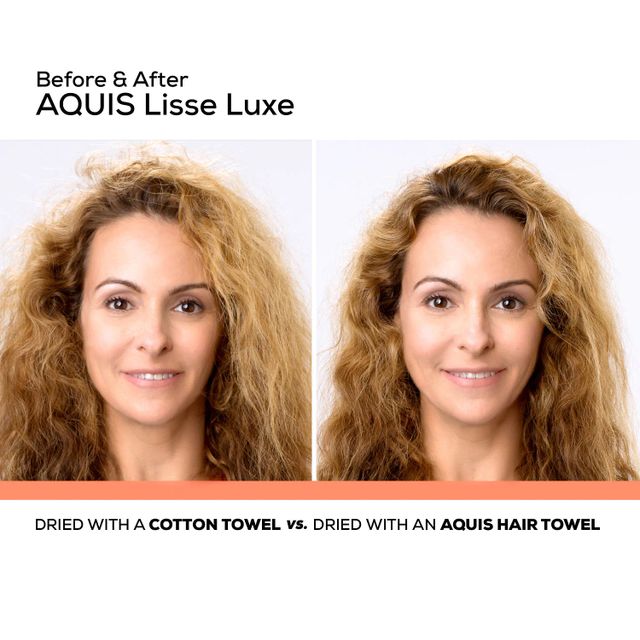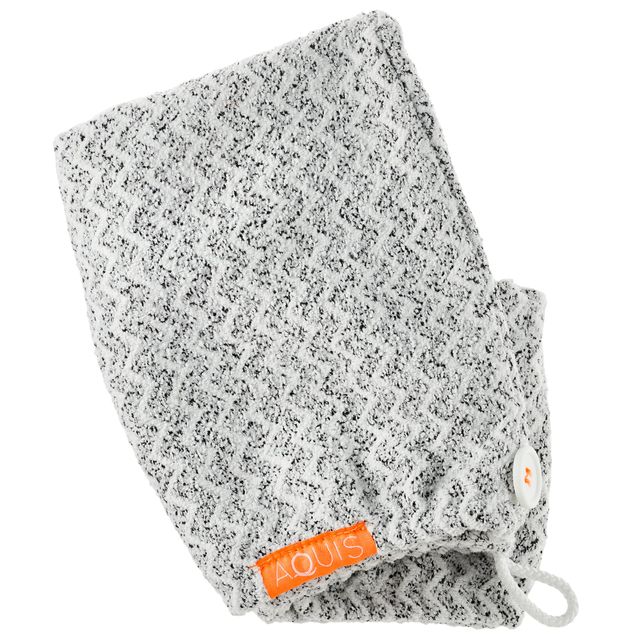 Lisse Luxe Hair Turban
Which hair type is it good for?
✔ Straight
✔ Wavy
✔ Curly
✔ Coiled
✔ Tightly Coiled

What it is:
A hair turban that is proven to cut drying time by 50 percent, while improving the overall health of hair for less frizz and breakage, more body, and more vibrant hair color.

Key benefits:
- Cuts drying time by 50 percent, hands-free
- Helps reduce frizz and breakage
- Helps hair color stay vibrant longer

If you want to know more…
Wet hair is weak hair. Aquis knows what you're thinking: "how could water possibly be bad for my hair?" Think about your nails after you come out of a bath. They don't feel as strong and healthy as they do when they're dry. This same thing happens to your hair after long exposure to water. It's called hygral fatigue. Leaving your hair waterlogged weakens it, leading to breakage, frizz, damage, tangles, and dullness—not the hair you want.

Aquis towels and turbans are engineered to wick water out of hair, fast… five times faster than cotton. By reducing the amount of time your hair spends weakened by water without heat or rubbing, the health of your hair will improve. Less frizz. Less breakage. Longer color. More body. It's the healthiest, strongest version of your own hair. Which naturally, looks good.

Lisse Luxe weave is perfect for delicate, treated, thinning, curly, fine, and normal hair. Because Aquis knows your life doesn't start and end with your hair, the innovative fabric wraps securely on your hair, moving with you instead of holding you back. It's haircare that works, so you don't have to.

What else you need to know:
Aquis is here to help you reclaim your beautiful, natural hair to the healthiest, strongest version that it can be. They believe in hair positivity. Your hair is a beautiful, natural extension of you, so treat it accordingly.

Aquis also believes in positive impact—on your life and on the planet. The average woman who usually uses a blow dryer saves 19,500 watts and 13 hours per year by using an Aquis. Since it's woven, not knitted, Aquitex doesn't release microplastics into our water systems, meaning no pollution to our oceans. Additionally, Aquis bags are recyclable, and the orange tie on the bag is a free gift: a silicone hair tie. The dyes used on Aquis turbans and towels are non-toxic.

Aquis hair towels and turbans were recognized as a 2017 Beauty Shortlist Award Winner for Best Hair Product.

Research results:
Test conducted by an independent 3rd-party testing facility on 107 females, ages 30 to 55 with shoulder-length or longer hair, after 21 days of use:
- 94% of users felt overall drying time was reduced
- 92% of users felt their hair looked less frizzy
- 91% of users thought their hair looked healthier, color faded less, and more nourished
- 89% of users felt they had less hair damage
- 87% of users felt they cut blow drying time in half

Clean at Sephora
Clean at Sephora is a curation of brands committed to evolving the beauty industry. When you see our Clean seal, you can be sure this brand's products are formulated without certain ingredients that are potentially harmful to human health and the environment and also address ingredients clients are concerned about, including phthalates, formaldehyde or formaldehyde releasers, oxybenzone and octinoxate, hydroquinone, triclosan, coal tar, methylisothiazolinone and methylchloroisothiazolinone, insoluble plastic microbeads, and more. For the full list, check out the Ingredients tab.