Home
Collagen POP + Vitamin C Dissolvable Tablets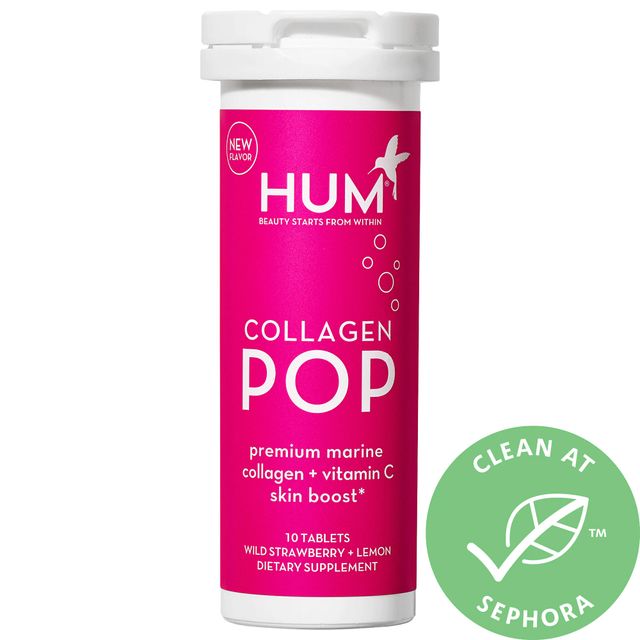 Collagen POP + Vitamin C Dissolvable Tablets
Quantity:
Beauty Benefit: Visibly Increased Firmness & Elasticity, Glowing Skin, and Stronger Hair & Nails

What it is: A dissolvable tablet that transforms your water into a wild-strawberry-and-lemon beauty tonic to visibly improve your skin from the inside out.

What it Tastes Like: Natural wild strawberry and lemon

When to Expect Results: Four to six weeks

What Else You Need to Know: With its wild-strawberry-and-lemon flavor, this unique, fizzy formula makes staying hydrated fun while visibly supporting your skin's beauty and health*.

Collagen, a blend of amino acids found throughout the body, is a major component of connective tissues such as cartilage, tendons, ligaments, bones, and skin. The body produces this protein every day, but as we age, collagen production slows down and the skin enzyme collagenase breaks it down more quickly than the body can make it. This leads to fine lines, wrinkles, less-firm skin, and weakened joints. It may be helpful to add collagen to the diet to visibly slow the aging process and rejuvenate the skin. Due to their similarity in structure to human collagen and high bioavailability and absorption, fish-derived collagen and collagen peptides are considered excellent skin nutrients. They have the potential to visibly improve dermal rejuvenation, hydration, and firmness and to possibly support skin-collagen metabolism.

Clinical Results: In a study of individuals taking marine collagen for 4 to 8 weeks:
- 68% reported an improvement in the overall appearance of their skin, including improvements in fine lines, wrinkles, hyperpigmentation, texture, tone, and smoothness

*These statements have not been evaluated by the Food and Drug Administration. This product is not intended to diagnose, treat, cure, or prevent any disease.